Cloudinary's dynamic URLs can also fetch, transform, and deliver Facebook or Twitter profile pictures—in fact, any image with a public URL. For example:
The above approach lacks security, however: anyone could delete a parameter, such as that for a watermark, by tweaking the image's dynamic URL.
Signed Image URLs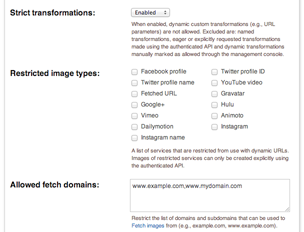 For example, take this scaled-down thumbnail, which is sourced from an image uploaded to Cloudinary:
Below is another signed-URL example (in PHP), which applies a saturation-reduction effect and generates a circular crop.
Strict Fetch URLs
You can pull original images with fetch URLs on Cloudinary. Concatenating a public image's URL and Cloudinary's delivery URL fetches the original image, transforms; optimizes, and caches it; ultimately delivering the final version through a CDN.
Additionally, by signing fetch URLs, you bypass the strict list of fetch domains and reap the dynamicity benefit of those URLs. As a demo, the following Django code generates an image tag of a signed URL that dynamically fetches a remote image from Wikipedia:
Also, if you must fetch and transform images from different locations, signed URLs enable you to stay strict without having to manually update your Cloudinary configurations or use the authenticated APIs. For instance, this slightly more complex Node.js example generates a signed URL of a resized, fetched image, applies effects, and adds a watermark:
Summary
Coupled with a signature-based security mechanism, Cloudinary's dynamic, flexible image-fetching and transforming URLs are your answer for effective image management. You can embed any image in your website, create a responsive design with dynamic dimensions, and update it any time by changing the intuitive and simple URL parameters in your code. All the tasks are secure and abuse proof.
Recall that Cloudinary's client SDKs create signed URLs by automatically generating the signature for you. Ensure that you're running the latest versions of the SDKs: